Can I Get a Witness? It's Called Fried Rice
Some fragmented thoughts on Grandma, fried rice, resurrection hope, and Nouwen
The 35th Day of Coronatide*
Grand Rapids, Michigan
Hey friend,
Let's talk about fried rice.
I don't mean that overly brown, greasy pile of abused grains, peas, and carrots that my profiteering people sometimes pack into takeout boxes and label "fried rice." I mean the homemade dish that I grew up on. It's amazingly versatile. Assuming you have the right leftovers in your fridge—obviously, you need some rice and maybe a remnant of that roast chicken you got at Costco last week—and an egg and some vegetables, you can produce a decent version that testifies to new life wrought from old things.
You, perhaps: OMG, did he just try to make fried rice a metaphor for resurrection hope?
Me: Yes, I did. I am insufferable, only finished seminary last spring, and will talk about resurrection until kingdom come. (I think we've got time, but who knows?) The key word here: "metaphor." Stretch any metaphor too far and it breaks. Just as you should not overthink your fried rice, please don't overthink my fried-rice metaphor.
My late grandmother is partly to blame for the meaning I invest in this dish. Hers was the first fried rice I remember. She had this old, hand-hammered wok, and when I close my eyes, I can hear the clack-clack-clack of her metal spatula hitting that pan. To me, it still sounds like love. 
She'd take rice left over from the night before and bits of meat from some container in her refrigerator. (That fridge and its contents undoubtedly violated numerous food-safety standards, but I'm still alive.) She'd cut green onions from the pot where she regrew them from old stems and roots. Then she'd toss it all into the hot pan, crack an egg over it, and add soy sauce and sesame oil. She'd let a crisp bottom crust form, and then she'd dish up my breakfast, admonishing me to remember to pray before I ate.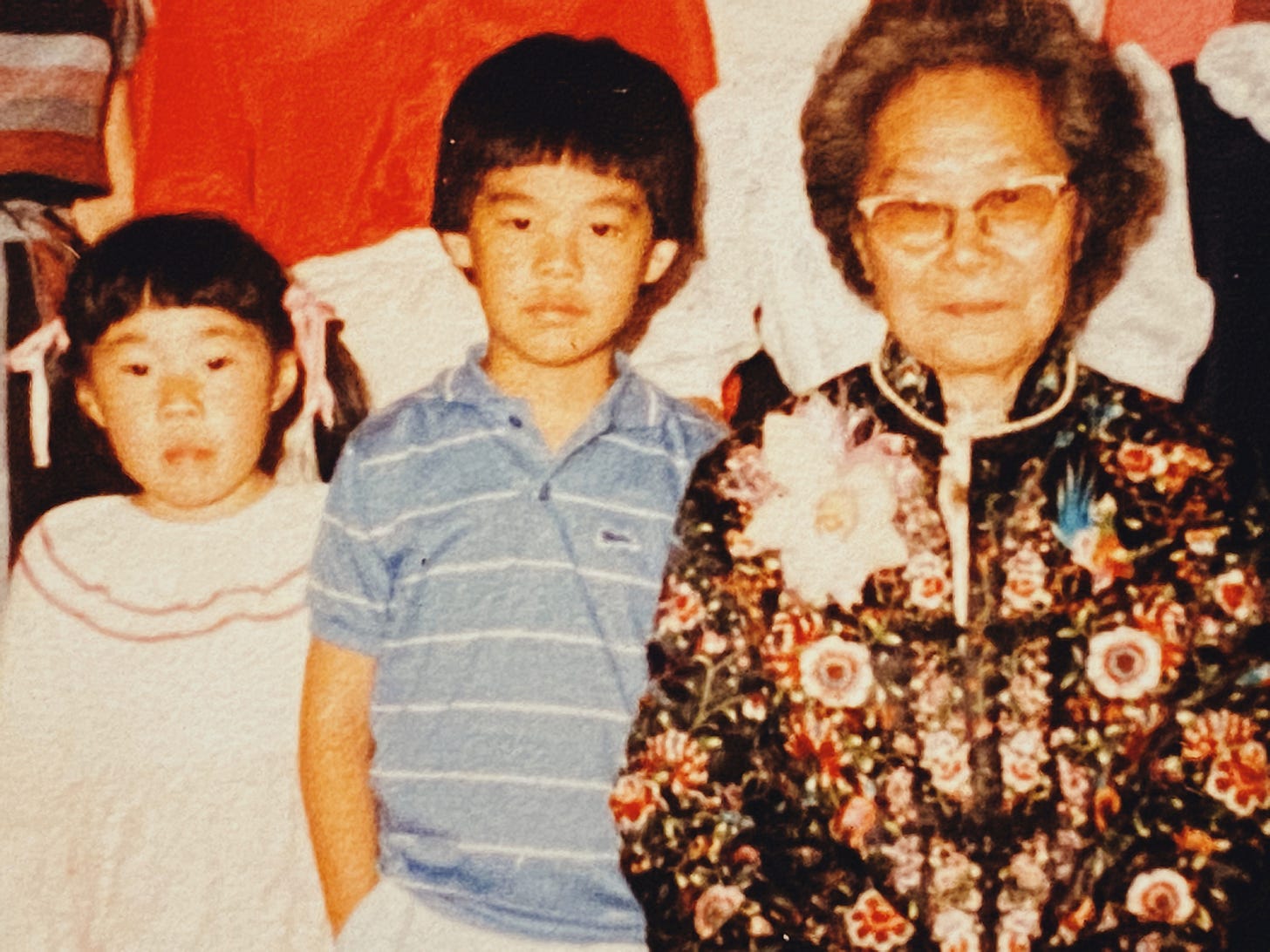 My sister, age 5, and me, 7, with Grandma. Even then, I was the picture of pure joy and delight.
My grandmother's frugality went back to her childhood poverty and the hardship of war. A missionary's eldest child and only daughter, she helped care for her eight brothers. During World War II, as the Japanese invaded southern China, she and my grandfather, who taught at a Bible college in Canton, fled westward with their young kids and some students. She had to feed this ragtag band, and I imagine her throwing together fried rice, a dish that transforms humble scraps into a satisfying whole.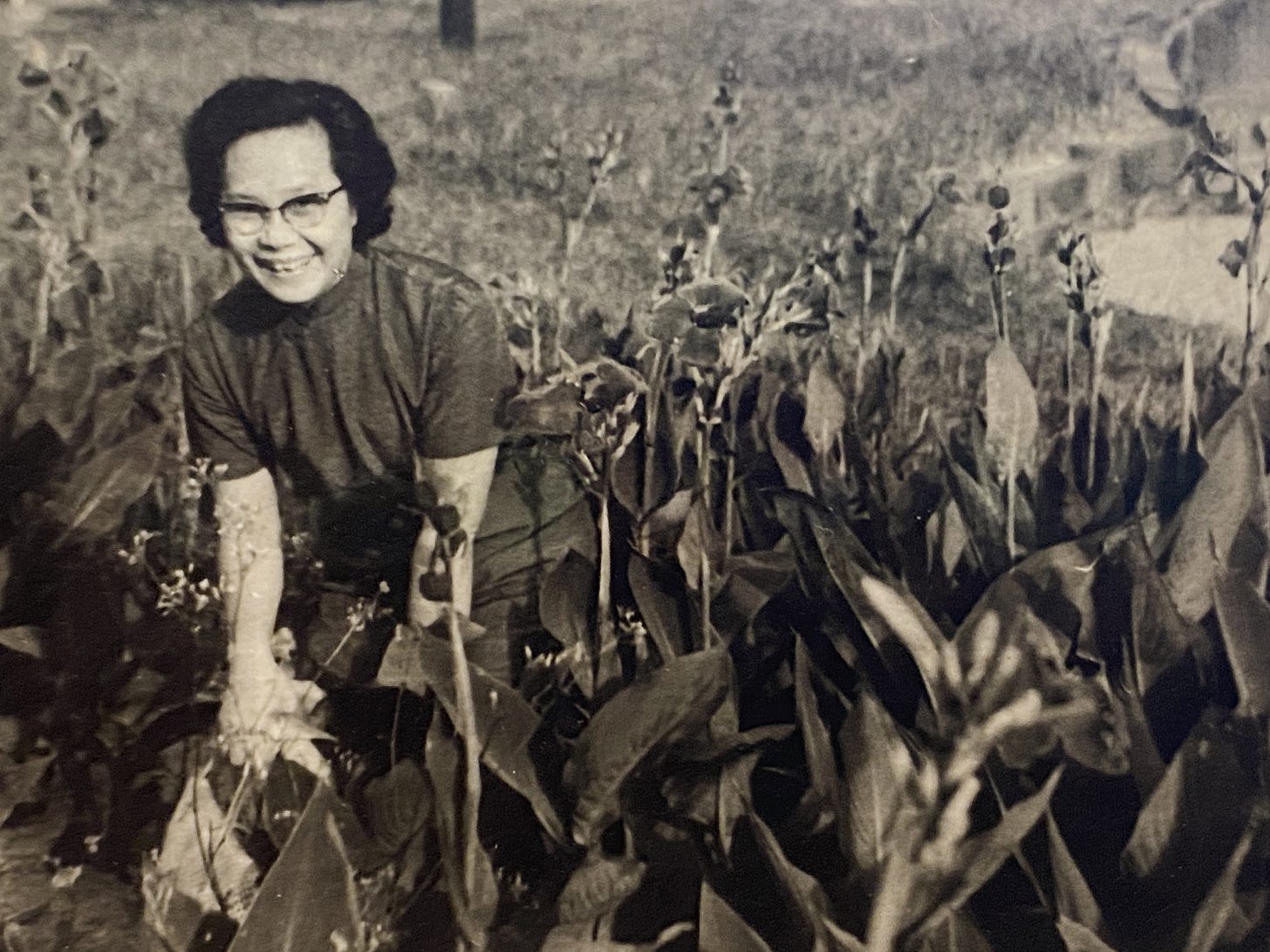 I've made fried rice from all manner of leftovers: Thanksgiving turkey, a half-eaten pork chop, honey-baked ham (the sugary bits work surprisingly well in the savory rice), even Spam (guilty pleasure). Lettuce too sad and limp for salad can come back to life in the wok. Half-shriveled mushrooms, yellowing chive (I can never use all the herbs in a supermarket packet), the glum half of a bell pepper languishing at the bottom of the produce drawer—all have found resurrection in my fried rice.
I'm fixating on fried rice right now because it's my ultimate comfort food. The word "comfort" has acquired a self-absorbed air in modern America, but its roots are in mutual encouragement and exhortation; comfort was always meant for sharing. Whenever I visit my parents, my mom always packs a container of fried rice for me to eat on the plane. (Here's a piece I wrote some years ago about my mom's cooking.) Fried rice comforts me because it carries the hope of restored relationship. It reminds me that I've been loved well before, especially amidst difficult circumstances. It exhorts me to try to love well too.
The best fried rice I've cooked was a version I made last year with brisket that Tristan bought at our favorite barbecue place in Austin (Micklethwait Craft Meats) and lovingly carried back to New Jersey. The brisket's fat rendered in the wok and coated all the rice. I diced up extra yellow and orange bell pepper as well as onion to balance the rich bits of brisket; sriracha helped too. That dish sang of our little Texan + Chinese household in a way that nothing else I've cooked has. Just thinking of it recalls the many graces that have gotten us this far.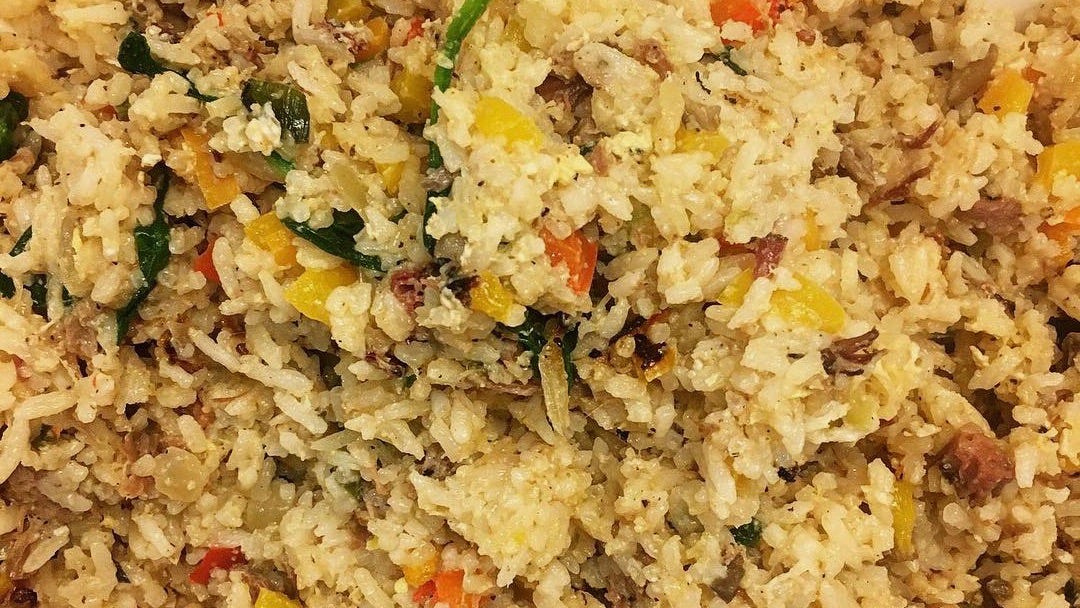 Tristan cautioned me not to make these letters too long—he knows I can go on—but just let me say this: Easter Sunday wasn't easy for me this year, but it was necessary. Death, loss, and grief have left their bloody claw marks on the past twelve months. Celebration, joy, and praise— my brain knows they exist, but my heart has struggled to summon them. Especially throughout this Easter season, I need to remember the story of Jesus's rising from the dead and the promise it holds for us.
You'll find my fried-rice "recipe" at the bottom of this letter. Fried rice helps me remember. It helps me remember all I learned from my grandmother as well as the divine pledge of resurrection. It helps me remember how God has promised to renew all things. It helps me remember how meals—meals received, meals prepared, meals served, meals shared—have nurtured me as well as allowed me to nurture others. And it helps me remember that I believe in a greater feast to come.
What I'm Growing: I just started some chard. Look at these babies! I never had chard when I was a kid. It's not something that shows up in the Chinese kitchen. 
What I'm Cooking: I bought lovely dried beans at a local farmstand the other day. This is another thing I never ate as a kid, but through the sanctification of my marriage, I've learned not to hate them. Do you have any good bean recipes to share? I'm open!
What I'm Reading: My Instagram tells me that some people have lots of time to read these days. I. Do. Not. Get. That. Church stuff is consuming more of my days than I thought it would. There's the part of the day that goes to chronicling and organizing my fears and worries. Of course there's the time that goes to keeping pace with the president's bizarro and terrifying press briefings. (Only sort of kidding.) I do keep meaning to start one of the books in my ever-growing to-read stack. (Top of the pile: Richard Powers's Overstory and Minjin Lee's Pachinko.) But honestly, I can barely focus long enough to get through a newspaper article.
When I am reading a book, it's often a chapter or two from Henri Nouwen's The Inner Voice of Love, which a friend sent me years ago. The chapters are brief, the prose unadorned. I am here for it, until I want to run away from it. In his simplicity, Nouwen targets the spiritual and emotional jugular: "Do not hesitate to love and love deeply. You might be afraid of the pain that deep love can cause. When those you love deeply reject you, leave you, or die, your heart will be broken. But that should not hold you back from loving deeply. The pain that comes from deep love makes your love ever more fruitful. It is like a plow that breaks the ground to allow the seed to take root and grow into a strong plant."
My offer from last week still stands: I've mailed notes to all the friends and loved ones whom you emailed me about last week. If someone you know needs a word of encouragement, please email me (jeff@byjeffchu.com) their name, address, and a line or two about their circumstances. I'll write them as soon as I can. 
And an ask: If you know someone who might like this newsletter, please share it:
Thanks for spending time with me. I'm so glad we can stumble through this together. I'll try to write more soon.
Much love,
Jeff
*I'm counting my days from March 10th, when my governor, Gretchen Whitmer—also known as That Woman in Michigan, First of Her Name, the Unbowed—declared a state of emergency. May she continue to speak out in servant leadership. And for the love of God and the sake of our neighbors, may we continue to #StayHome.
--
GRANDMA'S FRIED RICE
I usually don't use recipes when I'm cooking Chinese. So this is a different kind of recipe. Use your instincts and taste buds. After a couple of tries, you'll learn to make fried rice the way you like it. 
Grace abounds: There are as many variations of fried rice as there are cooks. My version, modeled on my grandmother's, is unlike what you get in most Chinese restaurants. For instance, the restaurant variety typically has visible bits of egg; the egg is scrambled separately, diced up, and thrown back into the wok. I crack the eggs straight into the pan, so that it softens the rice and coats the meat and veg.
First, pick a bowl that you'd eat your fried rice in. This is going to be your primary measuring tool. For four people, here's what else you'll need (this is what I usually cook for the two of us, so we'll have leftovers):
*Four bowls of cooked rice (one per person). I use jasmine rice. Long-grain is better than short-grain, but any rice works, except wild rice, which isn't a true rice and has the wrong consistency. Leftover rice is ideal. Since it has dried out a bit, it's less likely to turn mushy.
*One scant bowl of cooked meat. I wasn't kidding about Costco roast chicken. Ground beef works. The other night, I used remnants of short rib braised in red wine. If you like seafood, shrimp's a classic. I wouldn't recommend fish; it's a texture thing.
*Two heaping bowls of vegetables. I do one bowl of finely diced, non-leafy vegetables (onions, green onions, mushrooms, peppers) and one bowl of chopped-up greens (bok choy, spinach, kale, chard). We never, ever use peas and carrots in our home, except when my mom makes fried rice for non-Chinese people.
*Four eggs (one per person)
*Vegetable oil (preferably canola or something neutral—so, not olive)
*Soy sauce (some super-traditional versions of fried rice don't even use soy, because the chefs insist that the meat and the veg should be the primary flavor carriers)
*Sesame oil
*Salt
*Pepper
Pour into your frying pan just enough oil to coat the bottom—maybe a tablespoon per bowl of rice. (I prefer not to use a nonstick pan—to better develop crust—but any pan is fine as long as it's big enough to stir things around without rice spilling everywhere.) Heat on high until a drop of water crackles when it hits the oil. The non-leafy veg goes in first. Cook, stirring constantly, until the onions just turn translucent. Add the greens and let them wilt. Toss the meat in, and mix well. Then add the rice, breaking up any clumps with your spatula. Give it a minute or two to warm up.
Lower the heat to medium. Crack your eggs over the top, and stir to break the yolks and distribute the egg. Now, seasonings, soy sauce first. Here's the thing: I can't tell you exactly how much because I don't know what soy sauce you've got. (See Note 2.) I do a couple swirls around the wok—one Mississippi, two Mississippi. Once the soy sauce is stirred in, the rice might be slightly tinted but never dark brown; you can always add more soy later if you want it saltier. Add a spoonful or two of sesame oil, some pepper (to taste—I like lots), and a couple of generous pinches of salt. Stir everything together, using your spatula to break up any remaining clumps of rice; you want every grain to get some love from the egg and the soy. Once it's well mixed, leave it for two or three minutes, stirring only occasionally. 
When the egg has turned from shiny and wet to opaque, it's done. That's it. The rice should be a little fluffy. If you like spice, give it a squirt of sriracha.
Once you get the hang of this, you should be able to throw together fried rice in 20 minutes or less. And again, this is how I make mine. Use it as inspiration and guide, not rule and regulation.
Note 1: You might decide other proportions work better for you. If you're vegetarian, you might want three bowls of veg. If you want to make a meat-lover's fried rice, you might do two bowls of meat.
Note 2: There are almost as many kinds of soy sauce as there are people in China. Here's a geek's guide. Most supermarkets sell Kikkoman, a Japanese brand and a safe bet; Kikkoman's gluten-free version works well. (Tamari tastes different.) If you have access to an Asian grocery store, look for "light soy sauce." Kimlan is my preferred brand; it has no preservatives.